Concerts at All Saints
Regular Concerts
We run a weekly Wednesday lunch time series Soundbites (details below) ourselves. Our church is also used regularly for concerts by other organisations such as Hertford Choral Society, Hertford Symphony Orchestra and Hertfordshire Festival of Music
---
News Updates

Hertfordshire Festival of Music
Friday 9th to Friday 16th June 2023
HFoM 2023 features Clarinettist Emma Johnson as Principal Artist.
The Festival includes five concerts in All Saints:
| | |
| --- | --- |
| 10th June 6.00 pm. | Hartford Chamber Choir, William Whitehead - Organ, Manviner Rattan - Director. |
| | Purcell, Handel, Walton, Elgar and many others |
| 11th June 3.00pm. | Litsa Tunnat - Violin, Daniel Grimwood - Piano. |
| | Debussy, Randle, Prokofiev |
| 13th June 7.30 pm. | The Rosetti Ensemble |
| | Mozart, Debussy, Brown, Matthews & Schumann. |
| 14th June 1.00pm. | A joint concert with Soundbites. Katya Apekisheva - Piano. |
| | Schumann, Mussorgsky |
| 16th June 6.00pm. | Emma Johnson Clarinet Gregory Drott Piano. |
| | Mozart, Johnson, Brahms, Poulenc, Gershwin |
More information and on-line bookings may be found on the HFoM events webpage.
---


Hertford Choral Society
24th June 19:30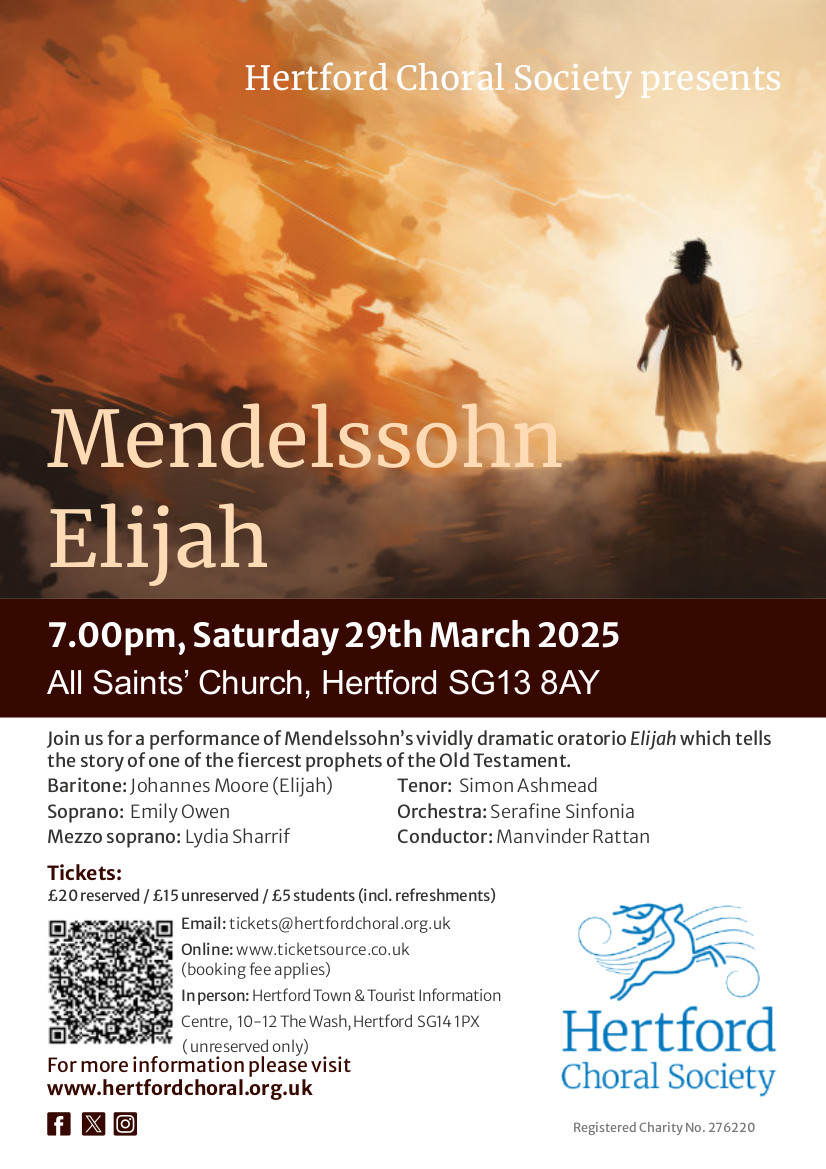 Hertford Choral Society present Choral Fanfare! An evening of music for choir, brass, percussion and organ, with a brass ensemble and Charlie Penn (organ).
Musical Director and Conductor: Manvinder Rattan
Tickets: £16 reserved, £12 unreserved, £4 students (all seats)
To book:
email tickets@hertfordchoral.org.uk; or book via www.ticketsource.co.uk (Fee applies).
Unreserved tickets are available from Hertford Town & Tourist Information Centre, 10-12 The Wash, Hertford SG14 1PX, Tel: 01992 584322
---
Summer Celebration of the Big Band Sounds

Robert Habermann
Phoenix Jazz Orchestra

29th June 19.45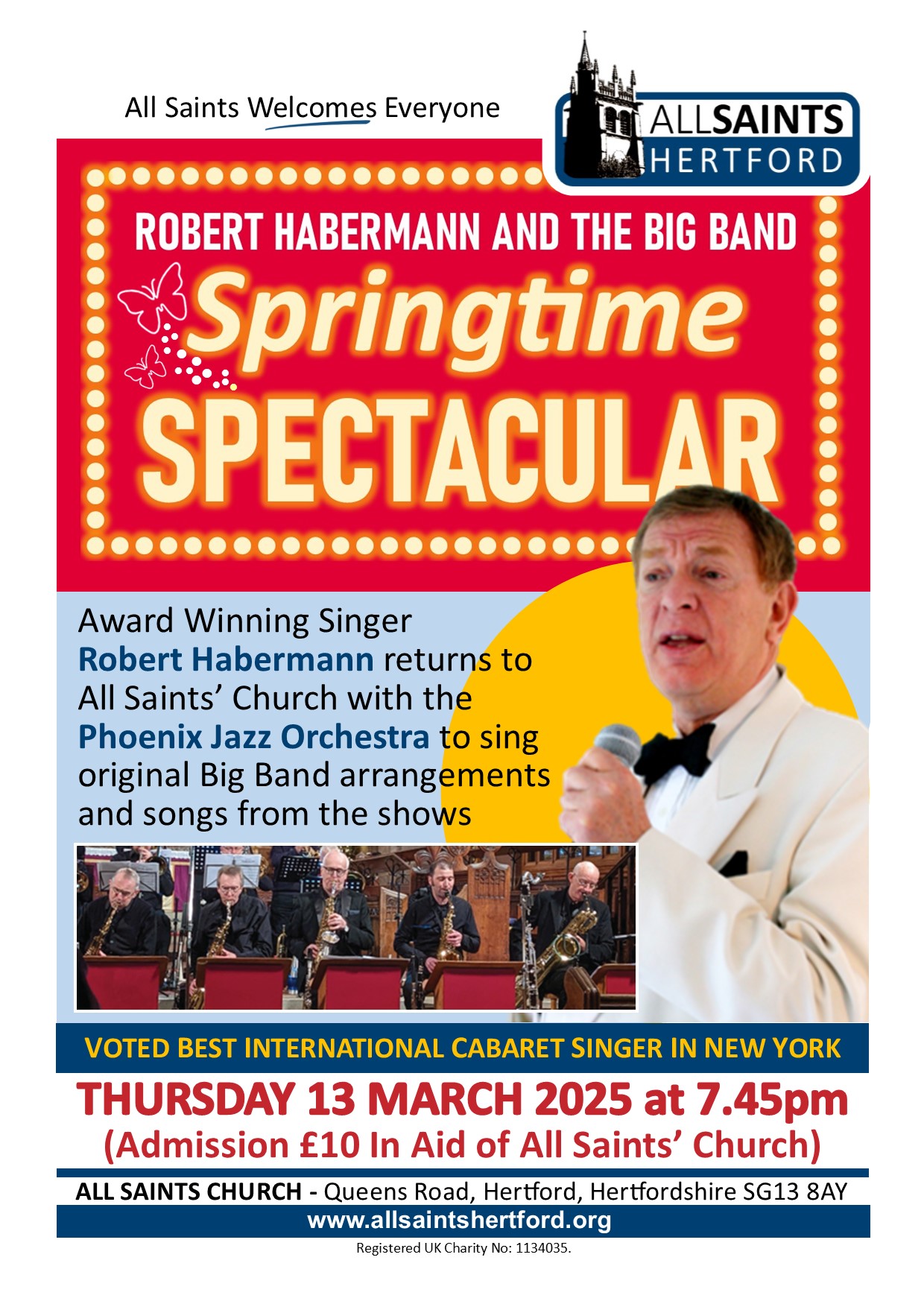 Award winning singer Robert Habermann returns with with the Phoenix Jazz Orchestra to sing original big band arrangements including some of Frank Sinatra's greatest hits.
Tickets on the door: £10, £5 children/students under 25. All proceeds in aid of All Saints' Church.
Pheonix Jazz orchestra
is a band of sixteen players whose repertoire is largely drawn from the American bands from the 1950s onwards. It has rehearsed in Hertford for 25 years, recently moving to a new rehearsal venue at St John's Hall. The band has undergone many changes of personnel but one recurring feature has been its collaborations with Robert Habermann. The band is delighted to be accompanying Robert again in a big band setting.
Robert Habermann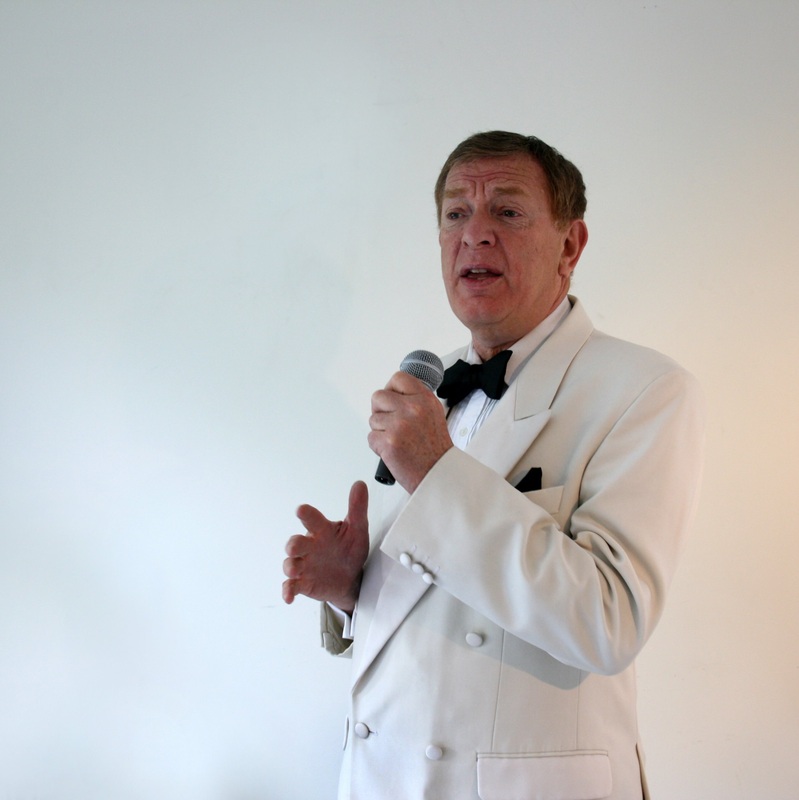 is known chiefly for his shows that explore the songs of the American shows and popular entertainers. His career as a singer was launched when he was voted Best International Performer 1994 by the prestigious Manhattan Association of Cabarets of New York, resulting in several major tours. He was the first major British singer to perform a concert to celebrate Frank Sinatra's 80th Birthday at London's Queen Elizabeth Hall in 1995. He performs throughout the UK and never misses an opportunity to sing with the Phoenix Jazz Orchestra.
---
Wednesday Lunchtime Concerts
Soundbites, as its name suggests, combines a selection of soups, rolls, sandwiches, cakes and hot drinks available from 12:00 with a short (35-45 mins), unticketed, admission free concert at 1:00 pm.
Due to the impact on our finances of the pandemic, and the healthy state of our Music Development Fund, proceeds will be used to support the work of the church for the next few months. Concert series dates normally match school term-times.
Our Summer Concert Series runs to Weds 28th June.
Programme details for May are given below.
Summer Season 2023
May 3rd

Krassimira Jeliazkova

Pavel Timofeyevsk

Violin
Piano
Schubert Fantasy for Violin & Piano in C,
Rachmaninov Romance,
Gershwin/Heifitz Two pieces from 'Porgy & Bess',
Vladigerov Concert Chimmy
May 10th

Music Students from Hailebury

Talented young musicians perform a range of music and showcase the work of this outstanding music department. .

May 17th

Michael Frith

Organ

'Music for Royal Occasions'

This recital, with the Coronation fresh in our minds, suggests a programme of music connected with Royalty and there is no shortage of appropriate instrumental music. There are the two well-known Coronation marches by Sir William Walton (1902-1983) - Crown Imperial (1937) and Orb and Sceptre (1953), - Sir Edward Elgar's tribute for Queen Victoria's Diamond Jubilee in 1897 – Imperial March. And Sir William Harris (1883-1973), organist of St George's Chapel, Windsor, wrote a splendid Flourish for an Occasion in 1948 to adorn the many celebratory services held there during the reigns of George VI and Elizabeth II.

But amongst all the pomp and pageantry, some more reflective music might come as a relief. Interspersed between the works mentioned above there will be music from earlier eras when the position and functions of the Monarch were not always clearly defined or universally accepted the Coronation.

May24th

Alice Dilley

Archie Bonham

Clarinet
Piano
Brahms F minor Sonata, Op. 120, No.1 and music by Arnold Bax & Philippe Gaubert.

Alice Dilley comes from a musical family with strong links to All Saints' Church. She is currently in her third year at the Royal College of Music, learning with Richard Hosford and Barnaby Robson. She also studies the Eb Clarinet with Timothy Lines.

Archie Bonham is a Master's student studying with Danny Driver at the Royal College of Music. He has recently won first prize for pianists in the Lies Askonas competition, and the Brooks-van der Pump English Song competition at the RCM.

May 31st

Michael Stephens-Jones

Organ
Michael sang as a chorister here and began his organ studies with Martin Penny. He is currently Graduate Organ Scholar at St Paul's Cathedral having held similar positions at Guildford Cathedral and Tewkesbury Abbey.

Prior to his time in Guildford, he undertook undergraduate studies at the University of Cambridge, graduating with a starred first in Music, and held the organ scholarship at Selwyn College. During this time he won prizes, and the Worshipful Company of Musicians Silver medal whilst gaining his Fellowship of the Royal College of Organists.

He takes up the position of Assistant Director of Music at Exeter Cathedral in September.
We look forward to welcoming you to one or more of these concerts