Concerts at All Saints
Regular Concerts
We run a weekly Wednesday lunch time series Soundbites (details below) ourselves. Our church is also used regularly for concerts by other organisations such as Hertford Choral Society, Hertford Symphony Orchestra and Hertfordshire Festival of Music
---
News Updates
CORO
21st October 18:00
Coro joins forces with The Choral Collective in Hertford to present a concert in the beautiful surroundings of All Saints Church, including works by Copland, Antognini, Duruflé and Victoria.
Book via EventBrite


Hertford Choral Society
28th October 19:30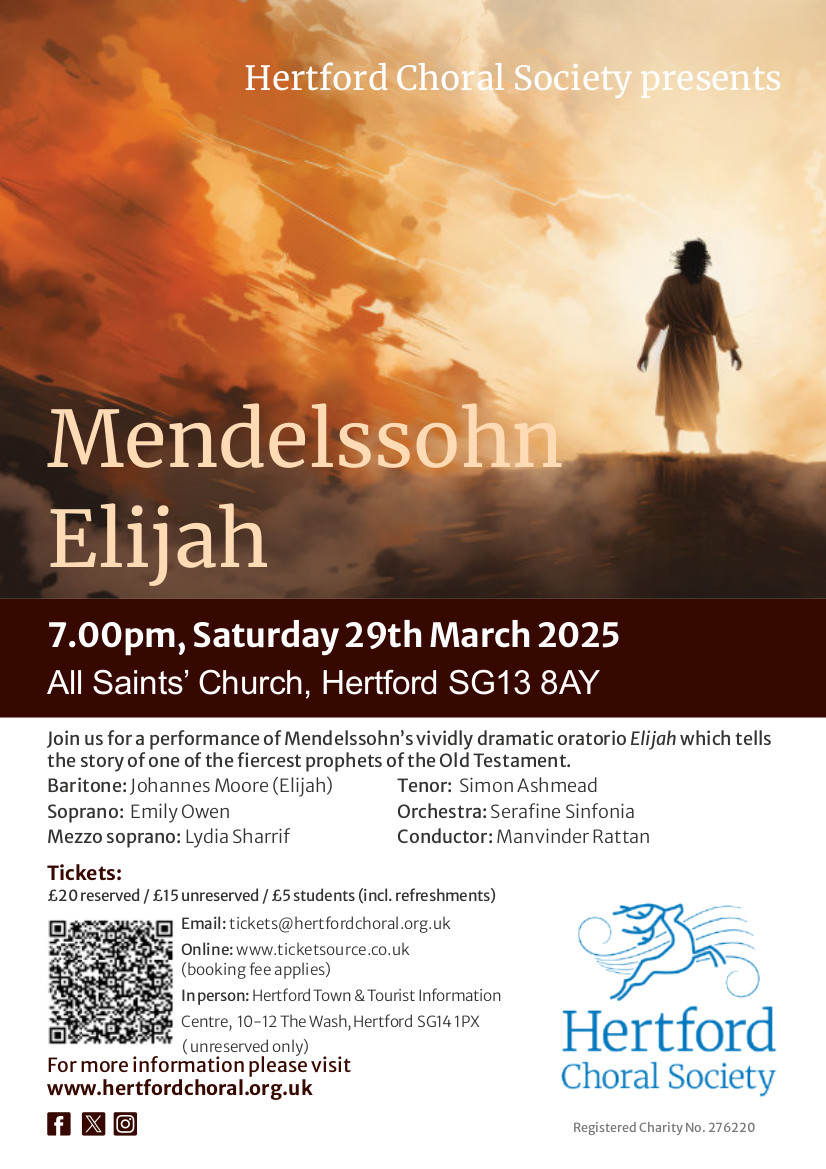 Hertford Choral Society present Colours of Autumn
| | |
| --- | --- |
| M Ravel, arr. Gough | Requiem aeternam |
| G. Mahler | Adagietto from Symphony No. 5 |
| B Britten | A Charm of Lullabies |
| J Rheinberger | Stabat Mater |
| M Duruflé | Requiem |
Orchestra: Serafine Sinfonia
Mezzo Soprano: Shivani Rattan
Baritone: Adam Hilton
Conductor: Manvinder Rattan

Tickets: £16 reserved, £12 unreserved, £4 students (all seats)
To book: email tickets@hertfordchoral.org.uk; or book via www.ticketsource.co.uk (Fee applies).

Unreserved tickets are available from Hertford Town & Tourist Information Centre, 10-12 The Wash, Hertford SG14 1PX, Tel: 01992 584322
---
LumosLive
Bringing you enchanting concert experiences paying homage to world famous artists.
In collaboration with spectacular church locations across the UK, Lumos Live delivers an extraordinary musical experience.
A percentage of our profits will be donated to a charity close to your hearts.
4th November An Abba experience 18:30 and 20:30
Featuring: Mamma Mia, Dancing queen, I do I do I do, Take a chance on me, Waterloo, One of us, Slipping through my fingers, Chiquita, Thank you for the music, The winner takes it all, Lay all your love on me, Summer night city.
---
25th November A Christmas Experience 18:30 and 20:30
Song list to follow.
---
London Film Orchestra
9th December 17:00 & 19:30
London Film Orchestra present The Best of Hans Zimmer & Film Favourites Illuminated
Experience cinema's most iconic music performed by The London Film Music Orchestra illuminated!
1 hour and 15 minutes jam packed with cinema's most iconic music, beautifully performed by a live chamber orchestra, including:E.T, Jurassic Park, Jaws, Harry Potter, Man of Steel, Star Wars, Inception, Interstellar, Gladiator, Superman, Indiana Jones, Pirates of the Caribbean, Schindlers list, Da Vinci Code, Sherlock Holmes
Book via EventBrite
---
Wednesday Lunchtime Concerts
Soundbites, as its name suggests, combines a selection of soups, rolls, sandwiches, cakes and hot drinks available from 12:00 with a short (35-45 mins), unticketed, admission free concert at 1:00 pm.
Due to the impact on our finances of the pandemic, and the healthy state of our Music Development Fund, proceeds are being used to support the work of the church for the moment. Concert series dates normally match school term-times.
Our Autumn Season begins on Wednesday 27th September and runs until 29th November.
Programme details for the first six concerts are given below.
Autumn Season 2023
Sept 27

Maltings Sinfonia Wind Ensemble

Christopher Tilbury

Mozart, Gounod and Gordon Jacob
Oct 4th

Alex Ashworth

Christopher Benham

Baritone
Piano
A programme of English song including Five Mystical Songs - Ralph Vaughan Williams (1872–1958) Written between 1906 and 1911, the work sets four poems ("Easter" divided into two parts) by seventeenth-century Welsh poet and Anglican priest George Herbert (1593–1633), from his 1633 collection The Temple: Sacred Poems.

Baritone and singing teacher, Alexander (Alex) Ashworth, was a Choral Scholar at St John's College, Cambridge (Class of 1998), before winning a scholarship to the Royal Academy of Music where he studied with Mark Wildman, Clara Taylor and Julius Drake. Since leaving the Academy, Alex has worked with many of Britain's main houses and is an accomplished interpreter of oratorio, appearing in many of London's major venues. Alongside his career as a soloist, Alex is Professor of singing at London's Royal Academy of Music.

Oct 11th

Yuzhou Zhang

Shirley Wu

Violin
Piano
Programme includes music by Wieniawski, Saint-Saens & Vitali

Yu Zhou won a scholarship to study at Trinity Laban, where he studied violin with Mayumi Fujikawa and piano with Hilary Coates. During this time, he also studied conducting with Richard Markson, and completed outreach work in local primary schools, working on projects to introduce classical music to children. He has recently been offered a full scholarship to study piano on the AdvPgDip course at Birmingham Conservatoire, and gives regular performances on piano and violin, both as soloist and chamber musician.

Canadian pianist Shirley Wu studied physiology and piano performance at McGill University, Montreal before completing her Master degree in Performance Science at London's Royal College of Music in 2017. In 2014, she founded Opus One Music (opusone.studio) to promote the social function of chamber music. Shirley is often invited to organize and perform at social and community events. She is actively engaged in the charitable arts movement. As a piano performer, Shirley has performed publicly in Montreal, Toronto, Seattle, San Francisco and London.

Oct 18th

Gerard Cousins

Guitar
Music by Ólafur Arnalds, Eric Whitacre, Gerard Cousins & Philip Glass

A graduate of the University of Leeds and Enschede Conservatorium (Netherlands), He has performed in many festivals and concert halls around the world, from the Purcell Room and Milton Court in London to Europe, South America and the Middle East. He has released 7 albums, each one focusing on a different area of music from traditional Spanish repertoire to his original compositions and unique re-imaginings of traditional Welsh music.

Oct 25th

Choir 18

David Boarder

William Byrd and the Golden Age of English Church Music

Byrd, Deering, Farrant, Phillips, Tallis & Weelkes

Choir18 brings together singers from several choirs in the Hertford area to perform a wide repertoire in some of Europe's most amazing buildings including St. Mark's, Venice, St. Albans Abbey, Waltham Abbey Church and the University Church in Oxford.

Nov 1st

Natasha Page

Adrian Oldland

Soprano
Piano
We look forward to welcoming you to one or more of these concerts