Concerts at All Saints
Regular Concerts
We run a weekly Wednesday lunch time series Soundbites (details below) ourselves. Our church is also used regularly for concerts by other organisations such as Hertford Choral Society, Hertford Symphony Orchestra and Hertfordshire Festival of Music
---
News Updates



Heath Mount School
4th March 19:00
Heach Mount School present a family-friendly Concert in aid of Zambian children's charity Twende Education for All on Saturday 4th March, 7:00pm at All Saints Church, Hertford (SG13 8AE)
Featuring West End hits and Big Band favourites. Help us provide hospital based schooling and support for children with cancer and sickle cell anaemia in Lusaka.
Heath Mount School Bax Choir
The City of Cambridge Brass Band
Guest compère and soloist: Anthony Harris
---


Hertford Choral Society
25th March 19:30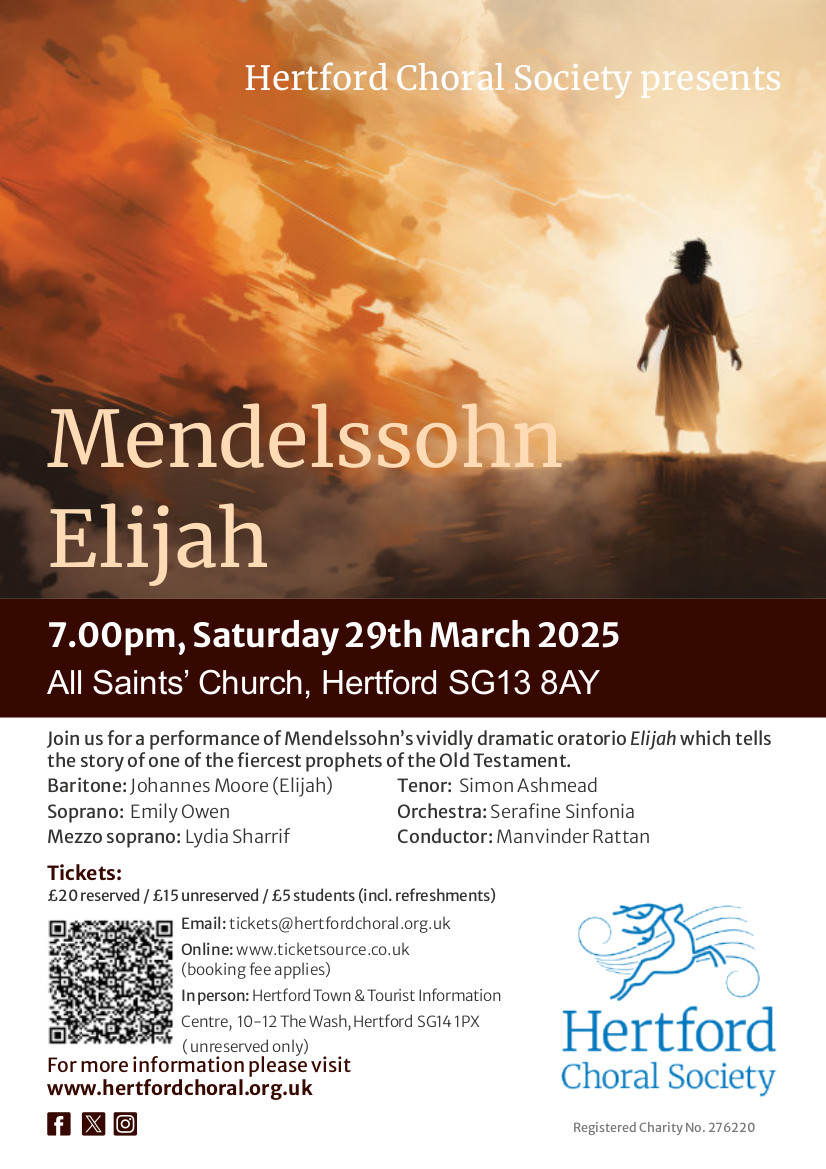 Hertford Choral Society present St Matthew Passion J.S.Bach on Saturday 25th March 2023, 7:30pm - 9:45pm at All Saints Church, Hertford (SG13 8AE)
The final days of Christ's life retold by solo voices, orchestra and chorus
Gopal Kambo (Evangelist)
Tom Herring (Christus)
Katy Thomson (Soprano)
Sam Mitchell (Counter Tenor)
Jacob Clark (Tenor)
Khrishnan Ram-Prasad (Bass)
Eboracum Baroque
Musical Director and Conductor
Manvinder Rattan
Tickets: £16 reserved, £12 unreserved, £4 children/students under 25.
Tickets can be purchased online via Ticketsource (booking fee applies) or by email to tickets@hertfordchoral.org.uk.
For those based in Hertford unreserved tickets for each concert can be purchased in person from the Town and Tourist Information Office, 10-12 The Wash, Hertford SG14 1PX, Tel: 01992 584322
---
Wednesday Lunchtime Concerts
Soundbites, as its name suggests, combines a selection of soups, rolls, sandwiches, cakes and hot drinks available from 12:00 with a short (35-45 mins), unticketed, admission free concert at 1:00 pm.
Due to the impact on our finances of the pandemic, and the healthy state of our Music Development Fund, proceeds will be used to support the work of the church for the next few months. Concert series dates normally match school term-times.
Our Spring Concert Series will start on 25th January and runs until 22nd March 2023.
Details of the first half of the season are given below.
Spring Season 2023
Jan 25th

Felicity Latham

Christopher Weston

Flute
Piano
Bach, Piazzolla, Harty & Weston

INVITATION TO THE DANCE

Sonata in E major for flute and harpsichord, BWV 1035 J. S. Bach (1685-1750)
Histoire Du Tango Astor Piazzolla (1921-1992)
In Ireland Hamilton Harty (1879-1941)
Impressions Suite Christopher Weston

Felicity is a Chelmsford-born flautist, and Masters graduate of the Royal Welsh College of Music. Having begun playing the flute at the age of 7, Felicity went on to gain an ABRSM Diploma whilst still at school. She then studied Music at the University of Bristol, graduating with a 1st Class BA(Hons), and a Masters at the Royal Welsh College of Music, during which she studied the flute with Matthew Featherstone (BBCNOW), Jonathan Burgess (WNO) and Sarah Newbold. She was a finalist in Essex Young Musician of the Year in 2017 and has since enjoyed performing recitals in and around Essex.

Christopher Weston made his concerto debut at the Barbican Concert Hall when only 16. He grew up in High Easter, Essex and is a former Felsted School pupil. He studied musicology at Clare College, Cambridge and performance at the Royal College of Music. He has performed in major venues throughout the UK, including St John's Smith Square and The Royal Festival Hall, as well as Italy, France, Germany and Portugal. Christopher won 1st Prize in the Brooks-Van der Pump competition for song accompaniment and since 2019 has been a regular collaborator with The BBC Singers. Recent performances have included Saint-Saëns' Carnival of the Animals with Ben Palmer & The Covent Garden Sinfonia at Thaxted Festival, Schubert's 'Trout' Quintet with The Soloists of the Royal Opera House, Covent Garden and a duo recital with saxophonist Jeffery Wilson at Harwich Festival.

Feb 1st

Ellis Ensemble

Kimon Parry

Susi Simme

Belinda Jones

Bruch, Nancy Galbraith and Piazzolla
Clarinet
Bassoon
Piano
Described as "suberb" and "exceptional, " the Ellis Ensemble is one of the UK's forefront chamber groups, dedicated to performing and commissioning works for piano and woodwind instruments. Having originally formed and enjoyed critical acclaim as a trio for clarinet, bassoon and piano in 2010, they soon discovered a wealth of music written for piano and woodwind chamber groups and decided to expand with more players, offering different combinations from duo up to quintet. The group has built a reputation through their virtuosity, expressive playing and original repertoire.
Feb 8th

Yoon Seok Shin

Piano
Yoon-Seok graduated from the Royal College of Music, London after completing the prestigious Artist Diploma in Performance and the Master of Music (MMus) in Advanced Performance under the tutelage of Andrew Ball. Also, he gained his Bachelor of Music, BMus (Hons) in Performance at Trinity Laban Conservatoire of Music and Dance (Trinity College of Music), London where he studied with Philip Fowke and was awarded 1st Class Honours. Since then, Yoon-Seok has appeared at some of UK's most prestigious venues and recently given concerts throughout in Europe and Asia. In addition, Yoon-Seok makes regular concerto appearances, recently performing with Seoul Amore Philharmonic Orchestra, the New London Orchestra, the Ashtead Park Sinfonia, the Manchester Camerata and the Thames Philharmonia.
Feb 15th

Mosaic Recorder Consort

'The Time Travelling Recorder'
Spanning 500 years of recorder music, the programme includes music by Richafort, Mattheson, Britten and Pete Rose.
Members of the newly founded Mosaic Recorder Consort hold postgraduate qualifications in recorder performance from the Royal College of Music, Trinity College of Music, Guildhall School of Music & Drama, and Goldsmith's College. Their eclectic programmes aim to demonstrate fully the recorder's many capabilities and to awaken fresh interest and enjoyment in this much overlooked instrument. If the word "recorder" makes you think of school then prepare your ears - we present recorders as you've never heard them before!
Feb 22nd

Ben Collyer

Organ
Music by Elgar & Howells.
Ben is Organist of St John's, Hyde Park and a post-graduate student at the Royal College of Music.
March 1st

Jeanne Mann

Christopher Benham

Violin
Piano
Franck Violin Sonata in A and music by Gershwin
César Franck's Violin Sonata in A was composed in 1886, and was offered as a wedding present for the violinist Eugène Ysaÿe. The violinist played the sonata many times on his wide-ranging tours and it has become one of the most performed violin works in the repertoire.
We look forward to welcoming you to one or more of these concerts