Environment, Climate and Hope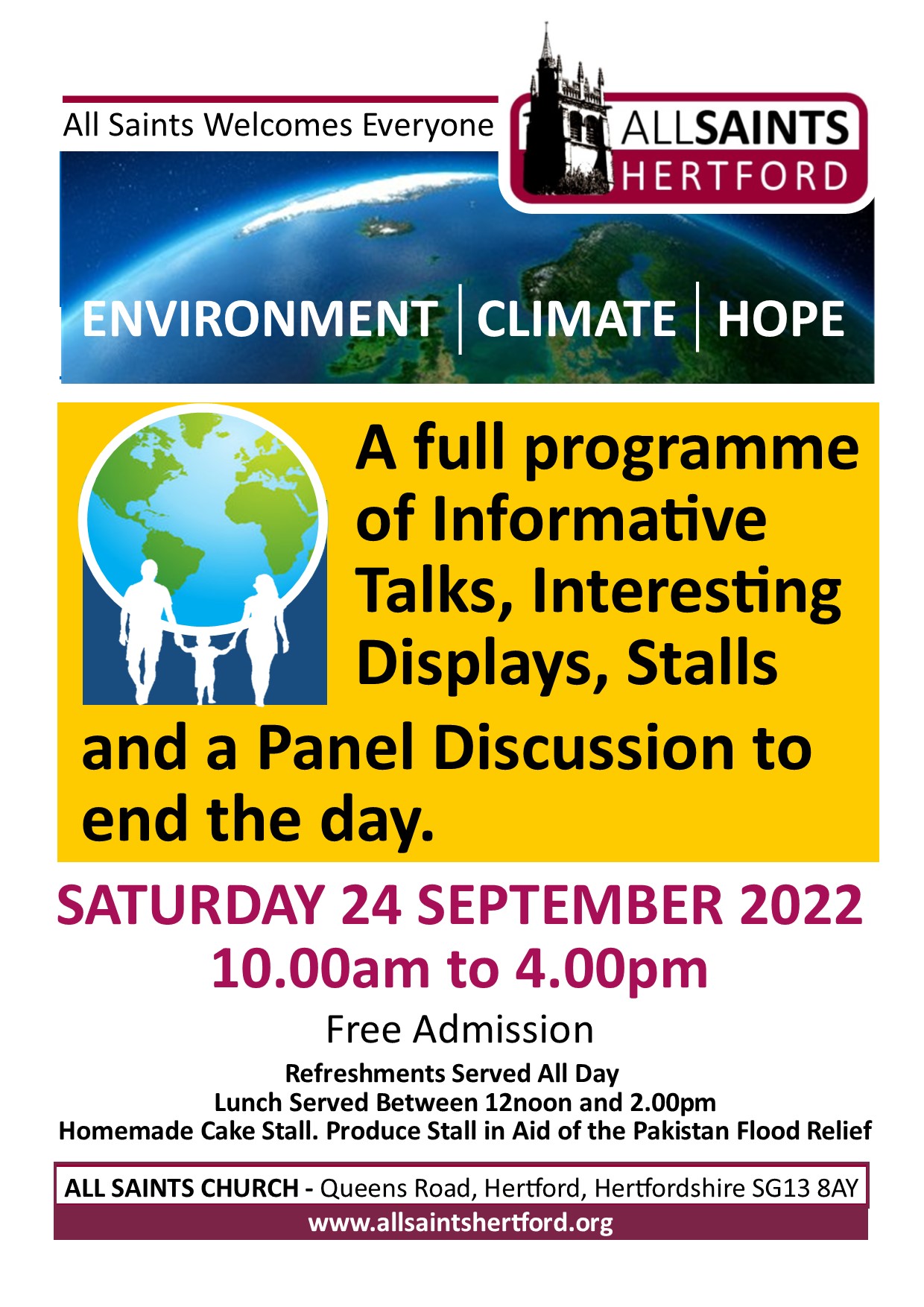 Welcome!
Saturday, September 11 at All Saints Church in Hertford is a day dedicated to Environment, Climate and Hope.
The programme runs from 10:00 to 16:00. Stay for the day or drop in from time to time as best suits you.
What's it about?
Through illustrated talks, presentations, stalls and displays, the wonderful wildlife areas in easy reach of Hertford will be celebrated.
Alongside this, the day will promote an awareness of just how much our wildlife means to our wellbeing, and will also consider other aids to wellbeing.
There will also be suggestions of how to live more sustainably and to protect the environment, taking into account the ravages of climate change, but finding ways to point to hope for the future. Through discussion of Professor Julian Allwood's work on climate change, the wider issues will also be considered.
What's is happening
Activities will be spread over 3 venues associated with All Saints:
talks and films
in adjacent St John's Hall,
stalls and displays
in the church itself, and
stalls and activities
in the churchyard.
Refreshments will be served all day, including lunch, and there will be activities for children and families as well as cakes and plants, including native trees, for sale.
Immi Davis, 8-year old super star busker will perform as will Nigel Braggins with his spoken word poetry.
Directions/Parking
Full directions are on our
location webpage
. There is free parking for 20+ cars in the churchyard, another 10+ at St John's Hall and the
Gascoyne Way multi-storey Car Park
 SG14 1YY has a further 340 spaces directly adjacent to the church.
These take place in St John's Hall (situated just to the east of the Church).
10.00
Russell Savory - Wildlife Cameraman and Photographer
Beavers - Slowing the Flow
Working with the Environment Agency and the village of Finchingfield beavers were introduced to stop the regular costly flooding of the village.

Robin Lowry and Russell Savory
All Saints Churchyard - Place of Peace and Beauty

11.00
Joe Cornish - Renowned International Landscape Photographer.
Fragile, Dynamic, Resilient - A Landscape Photographer's View of our Wonder Planet

12.00
Professor Julian Allwood - Professor of Engineering and Environment, University of Cambridge
Recorded YouTube Presentations
Forwards from the Virus and Absolute Zero, followed by discussion.
Use Less The World's got materials

13.00
John Cherry - Weston Park Farms
Regenerative Agriculture
Regenerative Agriculture is a farmer led revolution which is changing the way food is being produced, focussing on improving the soil and the environment, as well as the nutrient quality of the food. John Cherry farms with his brother Paul near Stevenage and they got so excited by the potential of this way of farming that they started the Groundswell Show for farmers to share ideas and learn from each other about how to make their businesses and farms more economically and ecologically resilient.

14.00
Dave Willis - Herts and Middlesex Wildlife Trust
Wetlands, wildlife and warming; helping biodiversity and the climate crisis
Join Dave Willis and Jo Whitaker from Herts Middlesex wildlife trust to hear how nature reserves in Hertfordshire are being maintained and developed to save local species and help the climate. Trees are often planted to help lock up carbon, but did you know wetlands and meadows can be just as good? Find out how this works, and ways you can help!

15.00
Edward Darling - Redlist Revival
Sustaining life for Today's Generations - and Tomorrow's
Redlist Revival's aims are:

To conduct research focussed on red-listed species and the factors associated with successful stewardship of those species.
To ensure policy makers and decision makers are aware of the factors associated with the revival of red-listed species at national, regional, sub-regional, county and community level.
To promote the factors further through the provision of information and education.
Stalls and displays will explore many aspects of environment, climate and hope. These include pond making, hedge-laying, bird watching, insects, climate friendly gardening, growing your own food, how we deal with waste, living sustainably, and many more.
Stalls
Cecil Elliston Ball, Simon Elliston Ball, David Russell and Saffron Booth
Think Globally, Act Locally
Trevor Mason
The New River Line, Community Rail Partnership.
Local authorities, community groups and organisations are working in partnership with Greater Anglia to promote train services on the branch line between Hertford East and Broxbourne as a sustainable transport option for local people and visitors to the area. To shine a light on all the wonderful attractions to be found along the line.
Margaret Rank
Growing Your Own food
Jo Whitaker and Dave Willis
Herts and Middlesex Wildlife Trust- Panshanger Park and King's Meads.
Andrew Wood
Creating a Good Habitat for Insects.
Eamon Shevlane
Pond-making
Frances Dale
Keeping chickens
Model Railway with James Toyn and Practical Action
Information stall for Practical Action
Tackling the World's Toughest Problems with Ingenious Ideas (Donations to this charity gratefully received)
Well-being - Massage, Yoga.
Displays
Plantlife
How long does it take items to biodegrade/decompose?
Climate Change and Global Warming
Monks Wood - Natural Regeneration
The Green Thing
Extreme Weather Events
How prepared for Climate Change is the UK?
Wildlife of the environs of Hertford
Memories - yesterday and today
Gardening with Climate Change in mind
Saving water
Designing a Bee friendly garden
12:30 and 2:00 Spoken Word Poetry - Nigel Braggins
In the Churchyard
Stalls (inside if wet)
Reduce/Reuse/Recycle
Tim Hoskin
Carbon footprint calculator/ Repair Shop/Sustainable Hertford Heath.
RSPB South East Hertfordshire
View birds through a telescope or binoculars.
Donato Cinicolo
Hedge Laying Demo and Activity
Rachel Johnston (St Albans Diocese)
The Eco Hub.
Green Space Action Plans for Cemeteries
Plants for sale.
including native trees
10:30 and 2:30 Immi Davis - "Future Super Star"
Activities for Children and Families
Nature crafts,
floor games,
skipping,
washable tattoos,
loose part art competition,
potting and planting bulbs and seeds,
bean bag throw,
photo booth,
story time for under-fives
Refreshments
Refreshments Served All Day.
Delicious Lunches between 12.00 noon and 2.00 pm.
Cakes & Produce for Sale
Talks and presentations
Stalls and displays in church
Stalls and events in the churchyard.
Refreshments including lunch.
Further information
A Rocha website.
Environmental Awareness & sustainability - some background from our Feb 19 magazine.
ARC Living Churchyards project website.
Caring for God's acre website.
Caring for God's acre our response in newsletter for 18th June 2021.
St Albans Diocese Living Churchyards website.
Swifts an article from our April 2019 magazine
---
How to find us